After 17 years of entertaining in Toronto (a.k.a the center of the universe), the organizers of FanExpo decided it was time for Vancouver to have a comic convention of its very own. While Vancouver has has had many anime, sci-fi and comic conventions before, it hasn't really been able to scale up its events for those world-famous convention centres it has down at the water front. Anime Evolution was probably the nearest contender, with well over 6,000 attendees at its 2010 outing.
The Vancouver Convention Centre is a gorgeous place to hold a fan event. It's a shame there hasn't been one there before. FanExpo took place on the lower level of the West building, which opened in 2009. The opportunities for cosplay photography are exquisite. You have the sails of Canada place, a clear view to the North Shore, the Olympic Torch sight, as well as Portal Park across the street. It's got that right mix of nature and futuristic cityscapes that make for great shots.
The organizers of FanExpo were expecting to merely break even with 12,000 attendees. They blew that figure out of the water with over 20,000 attendees. People were lined up out the block to get in, and by noon they had completely sold out. And this is with almost zero promotion on the convention's part! The Canadian Video Game awards had no problems giving out all their tickets within minutes. Last year, they had to get their audience to bunch up at the front so they would look like they had an actual crowd. Much kudos needs to go to the staff of the FanExpo and the convention centre, who were extremely professional at keeping the foot traffic moving.
The exhibitors hall was very impressive, even though they weren't expecting this many people. The guests were positioned at the back of the hall, and were quite accessible for anyone who wanted to walk up and say hi.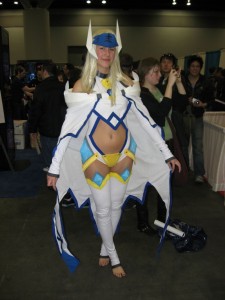 Our cosplayers had a great turnout for the many first-time con-goers at the convention. The 501st legion and the Ghostbusters of BC held some great booths this year and took lots of pictures with the attendees. There wasn't much room for any giant "hall-sweeper" type costumes, but rest assured, with a venue this size we will definitely see more elaborate costumes next year.
I can definitely say that Vancouver has really joined the big leagues of cons with FanExpo Vancouver. This town was hungry for a convention, and FanExpo delivered in spades. We'll see more of what our fair city can do when Anime Revolution comes to the convention centre in August. I hope to see you there!